Looking for Rubber Sheets?
• Worried About Water & Ozone Resistance?
• Fearing Tolerance To Extreme Temperatures?
• Afraid Of Purchasing Sheets With Limited Warranty?
• Unable To Choose The Right Manufacturer?
• Scared Of Potential Loss Due To Recurring Costs?
• Want To Increase Profits & ROI From Rubber Sheets?
Over 2000 Customers Have Reaped Profits By Using Duratuf Rubber Sheets. We Shall Be Glad To Help You Too!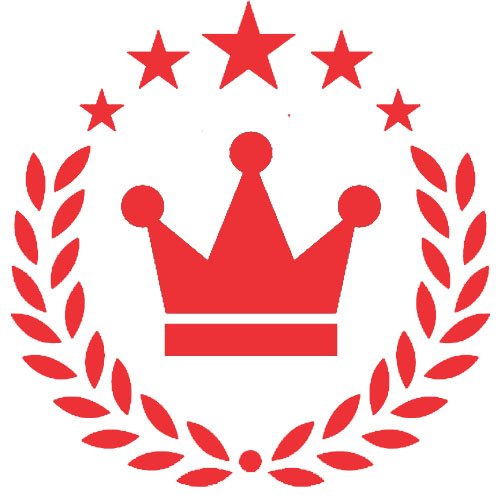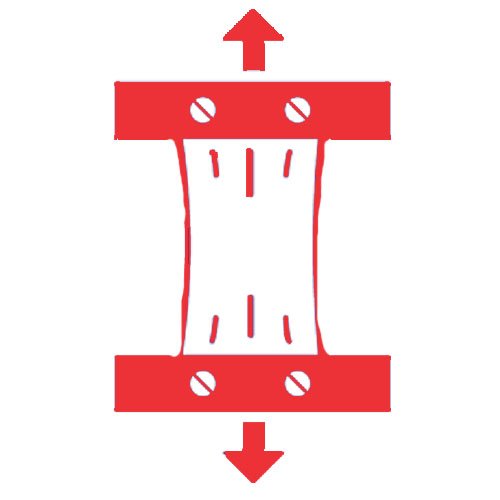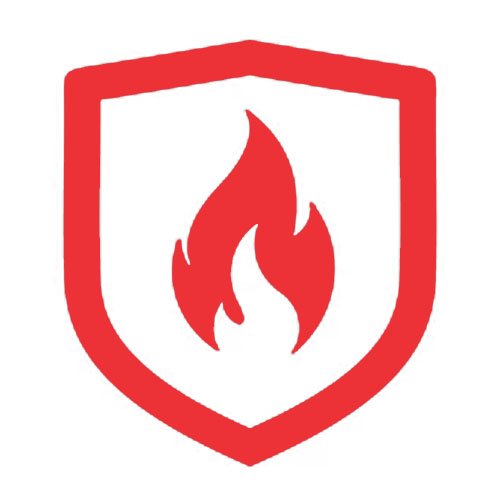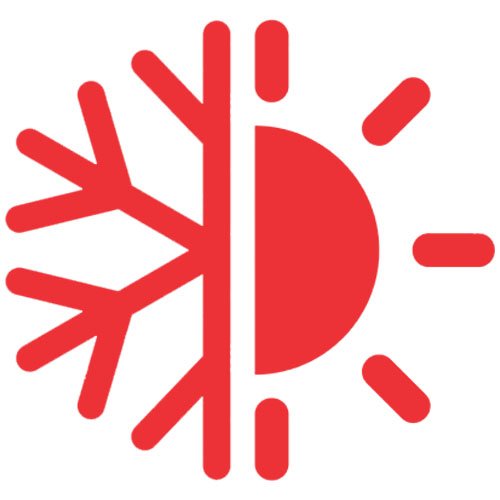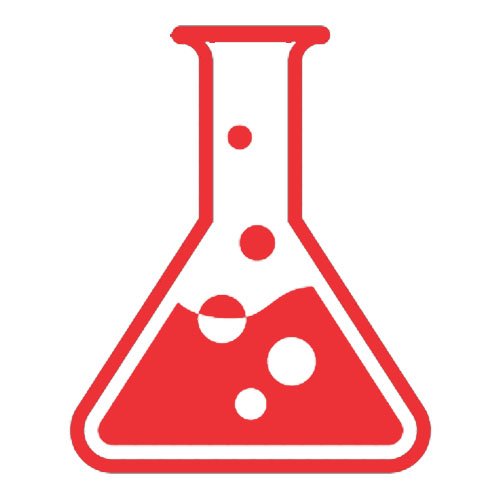 EPDM Waterproofing Membrane
Duratuf EPDM Waterproofing Membrane is a black EPDM Rubber waterproofing membrane, which is completely UV stabilised making it highly resistant to ozone effects and extreme weather conditions. It has mild chemical resistance to acids and alkalis.
Our Premium EPDM Geomembrane has very good physical properties including mechanical strength, puncture resistance and is suitable for prolonged exposure to aquatic and marine environments. It will not deteriorate when submerged in water making it suitable for pond and dam liner applications or anywhere water containment is required. It is available in a variety of choices depending on its specific gravity, mechanical properties & surface finish.
Duratuf EPDM Geomembrane Rubber Sheet has been designed primarily for use as a flexible waterproofing membrane for water containment. It is suitable for use in wide range of applications including:
> Heap leach liners
> Solution pond liners
> Tailings dam liners
> Tailing pond liners
> Sewage and effluent pond liners> Wastewater pond liners
> Dam liners
> Fish pond liners
> Thickness x Width x Length *
> Hardness *
> Specific Gravity*
> Colour *
> Surface Finish *
> Tensile Strength & Elongation *
> Total Quantity Required*
* Mandatory
Certification & Memberships
Gallery Of EPDM Waterproofing Membrane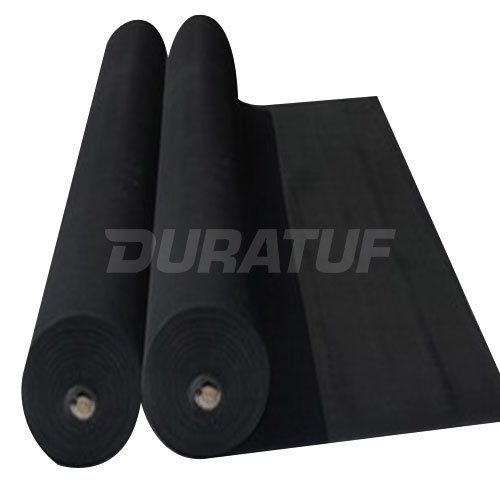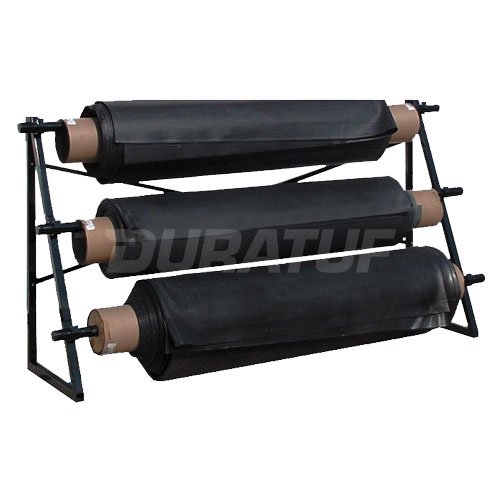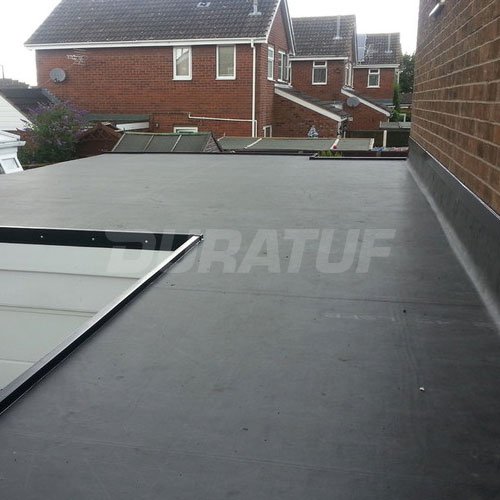 What is the standard size and tolerance level of your EPDM Rubber Sheet?
Our rubber sheets are offered in standard sizes of 1.2M & length is 10M for thickness up to 10mm and 2.4M/5.0M for thickness up to 50mm. The tolerance on thickness is ±10%, width ±2% & length ±5%. Rubber sheets with tighter tolerances are available on request.
Can you please the Minimum Order Quantity at Duratuf?
1 roll of rubber sheet is our MOQ for our Regular Stocked Items, whereas for our Non-regular or Customized Rubber Sheets, you would have to get in touch with us.
Where can I get authentic Duratuf EPDM Rubber Sheet?
Duratuf is one of the best EPDM Rubber Sheet manufacturer in the world, with supplies spread throughout India. We even export our products to countries spanning across five continents.
What if I am getting a better deal from other EPDM Rubber Sheet Suppliers?
We have never boasted that our sheets are the cheapest. However, we guarantee the quality of our rubber sheets and ensure reasonable pricing. We request you to try our rubber sheets to understand the difference. However, in case you have a special pricing request then we request you to contact our customer sales representative or authorized dealer to customize a product as per your needs.
What kind of special services and customization options that you offer?
Color Customization | Custom Formulations | Rubber Sheet Cutting | Fabric and Smooth Surface Finish | Tighter Tolerances | Customized Dimensions | Hole Punching | Stenciling | Talc Free Grade.
Do I get a Test Certificate with my EPDM Rubber Sheet?
Of course, we not only provide Test Certificates against the physical properties but also with the chemical properties if applicable.
What is the warranty provided by Duratuf on their rubber sheets?
Unless mentioned otherwise, we provide free replacement warranty against manufacturing defects for 2 Years for Premium Grade, 1 Year for Superior Grade & 3 Months for Commercial Grade Rubber Sheets from the invoice date.
What is the average price of your rubber sheets?
We manufacture rubber sheets that are not only of high quality but also affordable for everyone.
What is the packaging procedure of your EPDM Rubber Sheet?
The EPDM Rubber Sheet manufactured by us our packed in roll form with an external cover layer of HDPE and an inner lining of PP.
Know More About EPDM Waterproofing Membrane
Our products and services are used by the top businesses in India across various industries. We have exported our products to more than 25 countries worldwide. Our esteemed clientele and their repeat orders are a testimony to our customer service. We are always "happy to help" our customers.
Looking For Duratuf EPDM Waterproofing Membrane in Large Quantities?
A conveyor belt is an ideal medium that is utilized in the transportation of bulk materials like grain, salt, coal, ore, sand, and many more. So it is a medium. Is it? Yes! A conveyor belt generally consists of two or more pulleys. They are referred to as drums with a...